It's this time of year that I fantasize about long summer evenings in the garden with a glass of rosé watching the kids do unrelaxing things like pelt each other with waterbombs. Now is a great time to browse online for discounted outdoor furniture so that when the sun eventually arrives you can enjoy every last drop of its shortlived rays. But buying outdoor furniture from an environmental perspective is a minefield and below are a few tips on what you should look out for and recommendations of manufacturers who I think are doing the right thing by the planet.
The main things to think about when buying furniture are:
The provenance of the materials;
The energy/chemicals used to make it;
It's longevity; and
What happens to it when you no longer want it – can its components be reused or recycled?
As much as I love the look of all weather rattan furniture and completely get how convenient it is in terms of maintenance and all weather-ness, sadly it isn't very eco. It's made from pvc of which oil and chlorine are the main components. Its manufacture produces highly toxic waste (dioxins) and its breakdown in landfill results in heavy metal leaching and tiny plastic particles entering the food chain. As with many plastic products, I console myself that they are recyclable but the additives in pvc make recycling extremely difficult and at present less than 1% of it is recycled. So, if all-weather rattan gets the green thumbs down, what's the alternative?
The obvious choice is wood. It stores carbon as it grows; the energy/chemical inputs to transform it from raw material to finished product are small; it's easily repaired; and it's readily recyclable. But it still has its environmental issues. The latest research estimates that 10% of all global emissions are attributable to tropical deforestation. In many parts of the world, deforestation is leading to unimaginable habitat and species loss and it is our absolute responsibility to ensure that the wood products we buy are ethically sourced and have as low an environmental impact as possible.
Thanks to the European Union Timber Regulations 2013 it is unlikely that you'll unwittingly buy illegally harvested timber on the EU market.  But, as responsible consumers, we can do much more.
The greenest choice is to buy reclaimed wooden furniture. The beauty of reclaimed wood is that its quality is often better than new wood and it has been exposed to the elements so is less likely to warp or split. Reclaimed wood with either the FSC Recycled or FSC Mixed label is even better. One company that I've bought a number of pieces from (including the table and chairs below) is Sustainable Furniture. They are based in Devon and source reclaimed teak from Indonesia as well as using locally grown UK wood.
Another company I like the look of is BluBambu who use wood from old Javanese fishing boats and use recycled oil drums to make funky tables.
Scaffold planks are an excellent low cost material for outdoor furniture. Most carpenters are happy to work with them and there are numerous community wood recycling projects where you can pick them up cheaply.
I particularly love the way these pallets have been used to create a relaxed and expansive seating area.
One material that I'm excited about is Accoya. It's radiata pine (currently sourced in New Zealand) that is put through a process called acetylation where the water attracting compounds are forced out. The result is an incredibly stable wood that is perfect for outdoor use and comes with a 50 year guarantee. The really amazing thing is that a bi-product of the process is acetic acid (basically vinegar) which gets sold for use in the food industry. Accoya is of a similar price to European oak and is starting to be more widely used by furniture manufacturers. One of which is Sitting Spirtually who use it for their swing seats.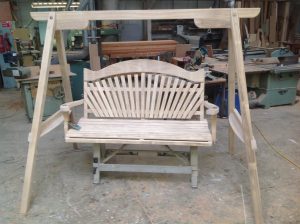 Sitting Spiritually also make the renowned Simon Thomas Pirie Floating Bench which is a combination of natural and scorched oak from FSC certified wood grown in Germany where the oak grows slowly giving it a tighter grain and longer lifespan.
A final note on outdoor furniture made from new wood. The FSC certification system is good but it's not flawless. Even if there's an FSC or PEFC certificate, I am wary of buying woods such as teak and sapele because they're designated as vulnerable by the Good Wood Guide and come with significant carbon miles attached to them. Countries where less stringent forest management rules apply include Russia, Estonia, Latvia, Gabon, Malaysia, Indonesia, China, Vietnam and the Philippines and as a result it's best to steer clear of woods sourced from these countries.