I've been building up to writing this post for a long time, mainly because there is so much baffling information out there on eco paints, with many manufacturers using terms that are designed to mislead.
In 2010 an EU directive came into force which heavily restricted the solvent (or VOC) content in paints. This heralded in a new era of healthier paints (whatever your views on Brexit, EU directives can be powerful initiators of change). VOCs are added to paints for fluidity and to make them dry quickly but they have damaging environmental and health consequences. The potential for VOCs to cause interior room pollution is even greater now that we insulate our homes well and block up all the draughts.
Anyway, enough of the scaremongering, let's talk about what constitutes an eco paint and which ones are good. It is fair to say that many brands have jumped on the eco bandwagon and having a minimal VOC content (although commendable) doesn't necessarily mean that a paint is environmentally friendly.
I base my assessment of the "green-ness" of paints on three criteria:
The VOC content;
The use of natural ingredients; and
The way they are manufactured.
As a general rule of thumb, the true eco paint manufacturers publish a full list of the ingredients contained in their paints.
But, although I'm environmentally-minded, I'm realistic about the desire to have stylish looking interiors that stand the test of time and withstand toddlers and teenagers throwing balls against them. Choosing the right eco paint is all about deciding what's important to you. If you're after a paint that isn't going to contribute to indoor air pollution then the choice is extensive. If you're after a paint that uses entirely natural ingredients then the choice is more limited. The list below is not exhaustive and if anyone can recommend other eco paints that they've used and like then please let me know. Purists may be critical of some of the paints I've included, but I'm realistic about budgets and levels of environmental commitment.  Prices below are for 5L of matt white wall paint, inc VAT
Auro. On a scale of green-ness these paints score very  highly.  They are certified VOC free; they contain entirely natural ingredients (natural vegetable resins and oils such as linseed and rapeseed replace all petrochemicals); and their manufacture is carbon neutral.  The paint has excellent breathability (see 24 October post: Breath is Life) which means they are perfect for old houses. Also, they're so natural that any waste paint can be composted! The downsides are that the colour palette does not contain the deep, vibrant colours achieved from synthetic pigments; and they're manufactured in Germany so have a higher carbon footprint than other UK manufactured brands.  They publish a full ingredients list for their paint. £43 per 5L tin. Auro
Earthborn. Like Auro, Earthborn score highly on the green scale with all of the interior paints holding the EU Ecolabel (a certification that gets awarded rather than bought). They have negligible amounts of VOC; contain no petrochemicals; and are produced under strict environmental standards. The Claypaint range (designed for the domestic market) is made in Germany and tinted in the UK.  The Ecopro range (designed for the commercial market) is made in the UK, has a narrower colour range and is a bit cheaper. They fully declare all the ingredients in their paints. £64 per 5L tin.
Edward Bulmer, formerly Pots of Paints. I haven't used these but I'm eyeing them up for my next project, although they come with a hefty price tag. In terms of environmental sustainability these paints score very high. They contain minimal VOCs; are made from entirely natural materials (most of which are organic in the Soil Association sense of the word); and the manufacturing process is carbon neutral. They are extremely microporous making them excellent for old houses. Like Auro and Earthborn, the base paint is made in Germany and then tinted and mixed in Herefordshire. Recently they have teamed up with Oka to supply all the paints for their interior design projects as well as in the showrooms. They publish a very full and informative list of all their ingredients. £67 for 5L. Edward Bulmer Paints.
Lakeland Paints (formerly Ecos). These paints are made in Lancashire and are totally solvent-free.  Organisations that use them include Lush Cosmetics, the Science Museum and the Duchy of Cornwall.  I like them because they are durable and offer a fantastic colour matching service to many well-known paint brands. BUT, they do contain petrochemicals and synthetic pigments and don't publish a full list of their product ingredients. If VOC levels and colour range are your priority then this is a good option but they are not as breathable or environmentally sound as Earthborn, Auro or Edward Bulmer. £47 for 5L. Lakeland 
Eico. These paints have very low levels of VOC. They are manufactured using 100% pure acrylic which is an extremely energy intensive process hence their manufacture in Iceland using geothermal/hydro energy. They have an extensive, vibrant colour palette with an excellent colour matching service. BUT they are not breathable and, like Lakeland, contain petrochemicals and synthetic pigments. They don't publish a full list of their product ingredients. £56 for 5L. Eico

Mini Moderns. This is a different concept from other eco paints. They reprocess waste water-based paint (diverted from landfill) into 12 different paint colours. Their paint has 90% recycled content but I haven't been able to find information on their VOC levels or product ingredients. They are manufactured in the UK and cost £55 for 5L. Mini Moderns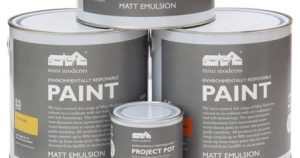 Johnstone's Trade, Ecological Solutions. These paints have minimal VOCs and, like Earthborn, they have the EU Ecolabel. They are not particularly breathable and will contain petrochemicals and synthetic pigments but the EU Ecolabel is not to be sniffed at and they are a good budget choice. They are not that easy to get hold of but can be bought through the Paint Shed. Covaplus Matt White is £14 for 5L. Johnstone's Ecological Solutions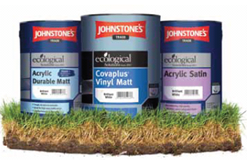 A quick word about Farrow & Ball and Little Greene Paints. I really love the colour palettes of these two ranges and they deserve a mention.  On the plus side they are both manufactured in the UK, have good breathability and are categorised as low VOC. On the green scale, Little Greene come slightly higher than F&B because they have lower VOC levels and their oil based paints are made from sustainable vegetable oils. However, like other paints in this list they do contain petrochemicals and other nasties despite being marketed as eco paints.
Save